With us you have the opportunity to determine the color of the chain seam exactly according to your wishes. Do you want the seam to blend harmoniously with the carpet? Or do you prefer a striking contrast to create a unique accent? Your ideas are our command!
The chain stitching in your desired color can only be ordered in conjunction with a carpet for the living room, the rear garage or the bathroom/toilet. Please contact us before ordering.
Regular price
Sale price
€20,00 EUR
Unit price
per
Sale
Sold out
Any questions?

Do you have questions?

You can find answers to frequently asked questions in our FAQ .

Our team is happy to help you. Simply fill out the contact form and we will get in touch with you promptly.
shares
View full details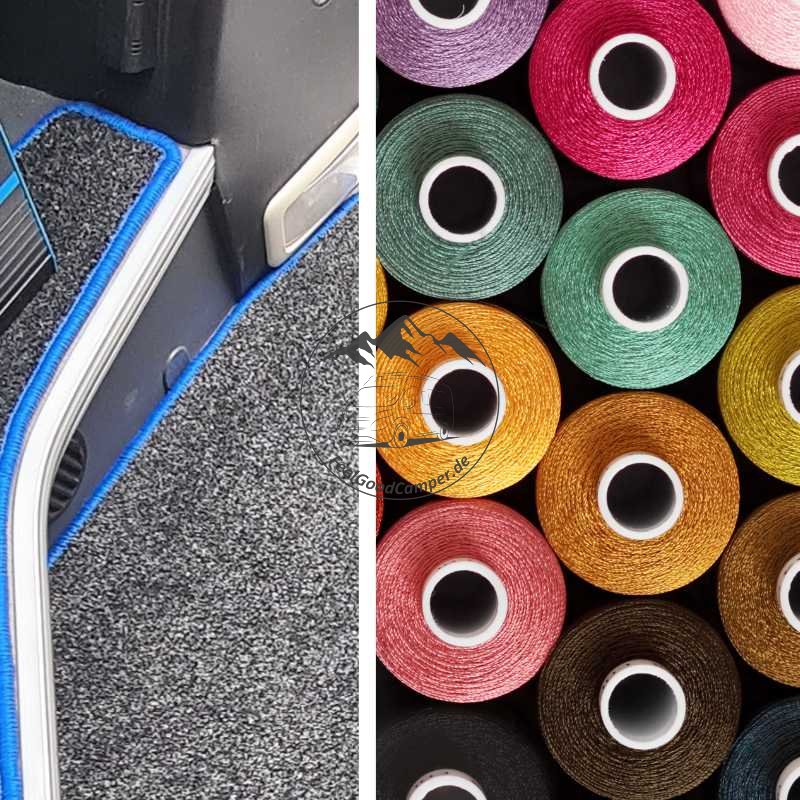 Link seam in desired color
Kettelnaht in Wunschfarbe: Wir ketteln den Teppich für Ihr Wohnmobil nach Ihren Vorstellungen!
Die Innenausstattung eines Wohnmobils spiegelt oft die Persönlichkeit und den Geschmack seiner Besitzer wider. Bei der Gestaltung des Innenraums geht es nicht nur um Funktionalität, sondern auch um Ästhetik und Wohlbefinden. Ein zentrales Element, das oft übersehen wird, ist der Teppich. Ein Teppich mit einer sauber verarbeiteten Kettelnaht kann das Erscheinungsbild und die Haltbarkeit Ihres Wohnmobil-Interieurs erheblich verbessern.
Warum eine Kettelnaht?
Die Ränder eines Teppichs können mit der Zeit ausfransen und unansehnlich werden. Das Ketteln ist eine Technik, bei der die Teppichränder durch Umschlagen und Vernähen gesichert werden, was die Lebensdauer des Teppichs verlängert und ihm ein sauberes, professionelles Aussehen verleiht.
Individualität durch Farbwahl
Bei uns haben Sie die Möglichkeit, den Farbton der Kettelnaht genau nach Ihren Wünschen zu bestimmen. Möchten Sie, dass die Naht harmonisch mit dem Teppich verschmilzt? Oder bevorzugen Sie einen auffälligen Kontrast, um einen einzigartigen Akzent zu setzen? Ihre Vorstellungen sind unser Kommando!
Vorteile der Kettelnaht in Ihrer Wunschfarbe:
1. Persönlicher Touch: Passen Sie die Kettelnaht an die Farbschemata und das Design Ihres Wohnmobils an.

2. Haltbarkeit: Verhindern Sie das Ausfransen und Erhöhen Sie die Lebensdauer Ihres Teppichs.

3. Ästhetik: Eine saubere Kettelnaht veredelt den Teppich und gibt Ihrem Wohnraum eine hochwertige Optik.

4. Pflegeleicht: Gekettelte Teppiche sind einfacher zu reinigen und zu pflegen.

Gönnen Sie Ihrem Wohnmobil den Luxus eines gekettelten Teppichs in Ihrer Lieblingsfarbe. Es ist nicht nur eine Frage des Stils, sondern auch der Haltbarkeit und Funktionalität. Kontaktieren Sie uns, und lassen Sie sich von den vielfältigen Möglichkeiten inspirieren, wie Sie Ihren mobilen Lebensraum noch angenehmer gestalten können. Es ist Zeit, Ihrem Wohnmobil das gewisse Etwas zu verleihen!